Home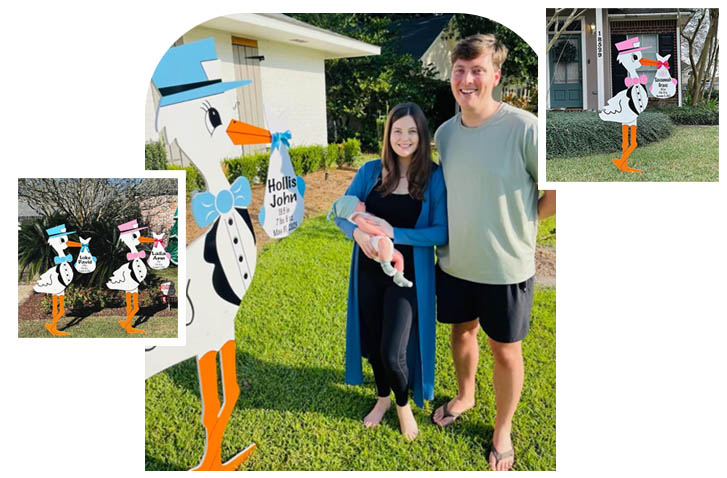 WELCOME TO PEARLY WHITE STORKS
Welcome your new bundle of joy and spread the happy news with a big bang!
Get ready to welcome a bundle of joy and spread the happy news with a big bang! Whether it's through the arrival of a newborn or adoption, it's time to let the world know about the little one who's about to change your life forever.

But why settle for a plain old announcement when you can make it an unforgettable experience for your loved ones? Get your hands on one of our stunning 6ft baby stork yard signs, and watch your front yard transform into a wonderland of cuteness.

Choose from our impressive lineup of a 6-foot storks in pink or blue. No matter which one you choose, the stork sign will bring a touch of whimsy to the parents' yard, and they'll treasure the personalized keepsake forever. So, what are you waiting for? Get your hands on our adorable new baby signs and let the world know about your newest addition in style!
Get to know our Popular Birth Signs
Popular Birth Announcement Signs
Pink Stork
for Birth Announcements, Grandson/Granddaughter announcements, Baby Showers, Sip & Sees, Gender Reveals, and More
Blue Stork
for Birth Announcements, Grandson/Granddaughter announcements, Baby Showers, Sip & Sees, Gender Reveals, and More
Star Sign
for proud Siblings, Messages from relatives, parents and more
Pet Signs
for Cats and Dogs
COMMEMORATE THE ARRIVAL OF YOUR NEW BUNDLE OF JOY!
It's time to celebrate in style!
Hey, new parents! Congratulations on your latest addition to the family! Now it's time to celebrate in style with a little help from our feathered friend – the stork!
Our stork birth announcement signs are the perfect way to commemorate the arrival of your new bundle of joy. And the best part? They're totally customizable! Add a personal touch to your celebration, making it a truly unique experience you'll cherish forever.
And don't forget to snap some family photos with our adorable stork sign! Trust us; it's the perfect way to preserve this special moment for all eternity. Every time you look back at that photo, you'll be transported back to the moment you first held your newborn in your arms – pure joy and excitement!
So, what are you waiting for? Don't miss out on this once-in-a-lifetime photo opportunity! Get your celebratory new baby stork yard sign today!
Had a great experience with working with Pearly White Storks! They had the storks posted in a timely manner and worked with me and my wife to make it look exactly what we wanted. This is our second time using them! Highly recommend!
The Simple Pearly White Storks Process
Are you ready to take your celebration to a whole new level of awesomeness? Well, hold onto your hats because we've got some fantastic options lined up just for you!

Step1: Decide the Perfect Signs
Let's decide on the perfect yard sign for your event. We've got a whole range of options that will make your front yard shine! From the classic Stork Yard Signs in Pink or Blue to the adorable Sibling Star Yard Signs, and even Dog Bones and Cat Signs for our furry friends. Take your time and choose the sign that speaks to you and your celebration.

Step2: It's time to Book your Sign
For Birth Announcement Signs (Storks), we'll need all the essential baby information like the baby's first and middle name, date of birth, weight, and length. And for our other signs, such as Stars, Dog Bones, and Cat Signs, let us know the special message you want to display. To make sure everything goes smoothly, we'll also need your contact information, including names, addresses, and the best way to reach you.
Booking your sign is a breeze! You can fill out the form right here on our website, give us a call, shoot us a text at 252-521-5537, or even send us an email at pearlywhitestorks@gmail.com. Whichever method you choose, we're all ears and ready to assist you in making your event absolutely unforgettable!
Step 3: Sit back and relax
We'll handle the delivery, installation, and pick-up of your sign at the end of the rental period. Just a friendly reminder, we kindly ask that all payments are completed 24 hours before the scheduled delivery to ensure a smooth process.
Oh, and here's some exciting news! We leave behind any personalized bundles, star signs, or pet signs as keepsakes for you to cherish. However, please note that generic bundles are not left behind.
So, what are you waiting for? Let's make your celebration the talk of the town with our eye-catching yard signs and exceptional service. Get in touch with us today and let's turn your event into an unforgettable experience!